What is ADR's lead time for production?
We strive to ship most orders within 20-25 business days of the date an order is confirmed (excluding oversized rods, cornices, and custom items).
---
How soon doES ADR ship an order after production has been completed?
Finished items are processed and shipped within two business days following completion of production. Orders are sometimes filled and completed in stages. Orders are not shipped on weekends or holidays.
---
Can my ADR drapery hardware order be completed on a rush basis?
No. All ADR orders are produced on a first in / first out basis. This practice treats all customers and orders equally. It ensures work flows efficiently through the production process and the highest standards of quality are maintained for our hand crafted, made to order products.
---
Is pricing contained on the ADR packing slip?
No. The packing slip only contains a list of the items included in the shipment.
---
Can ADR drop ship my drapery hardware order directly to a customer or job site?
Yes. Please be sure to include this instruction and provide the "Ship To" address at the time the order is placed.
---
Can sales tax be applied to the invoice and paid at the time an order is placed with ADR?
No. ADR maintains a wholesale relationship with its registered accounts. Each must have a Resale Certificate Number and accept responsibility for reporting sales taxes related to their business operations.
---
Is there a warranty or guarantee on ADR Drapery hardware products?
ADR has established a reputation for consistently manufacturing fine quality drapery hardware to the highest industry standard. Product issues are handled on a case-by-case basis through our Help Desk. We value every customer relationship and always do our best to resolve any issues or concerns quickly, fairly and in a consistent manner.
---
Does adr manufacture curved drapery rods?
Yes. ADR makes fine quality drapery rods that can be custom cut to fit bay and bow windows and bent to fit curved windows. Contact the Help Desk at (214) 653-1733 to review project details with our drapery hardware specialists and receive a quote.
---
Can I order a totally custom finish that is not part of the ADR Color Palette?
No. We are not equipped to efficiently provide this service. ADR offers one of the most expansive color palettes available from manufacturers of fine quality drapery hardware. It includes over 30 hand crafted choices, five powder coat finishes (metal products), plus two specialty finishes (Tortoise Shell Bamboo and Polished Aluminum). See ADR Drapery Rod Finishes.
---
Can ADR's drapery hardware products be ordered unfinished?
No. ADR exists to deliver fine quality drapery hardware representing the highest levels of craftsmanship. Our artisans are true masters in hand-painting, plus the finely detailed and highly specialized hand-finishing techniques that distinguish us in our industry. This is where and how we bring exceptional and lasting value to the end users of ADR products.
---
How do I order an ADR catalog?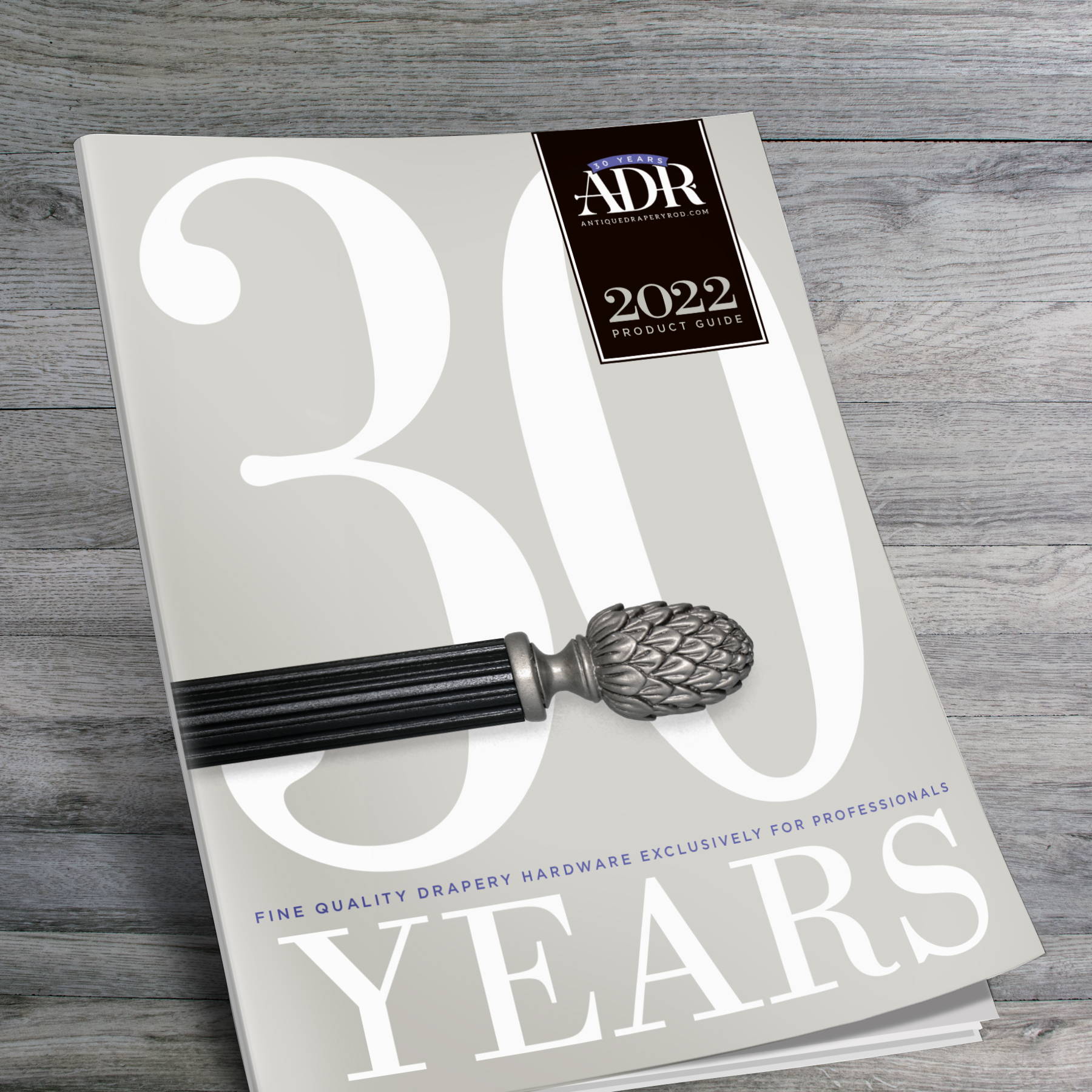 Printed copies of the most recent ADR Product Guide containing suggested retail pricing can be purchased by all registered ADR accounts. It can be ordered here.
---
HOW DO I ORDER SAMPLES OF THE VARIOUS ADR FINISHES?
Finish samples representing the ADR Color Palette can be purchased by all registered ADR accounts. Customers choose from a three-ring binder that contains a complete set of actual wood and metal finish samples; a set of actual carved wood samples on a chain; a set of actual metal color samples on a chain; or, an actual individual wood or metal sample.
---
Where do I locate the digital flip book / magazine version of the ADR catalog?
The digital flip book is free to all registered ADR accounts and is located here.
---
Can I order from ADR without using the website?
Yes. We encourage registered ADR accounts to take full advantage of the convenience of shopping our entire line of products 24/7 at our private online marketplace; however, customers who prefer, can complete the placement of orders directly with our Help Desk. All orders that are requested to be entered manually by ADR must be submitted in writing and sent via email or fax (214) 653-1776.
---