Welcome to the next generation of AntiqueDraperyRod.com. We've structured our store to bring you a 24/7 shopping experience that is easier, faster and better overall. There are exciting enhancements, advancements, and enrichments to discover and explore.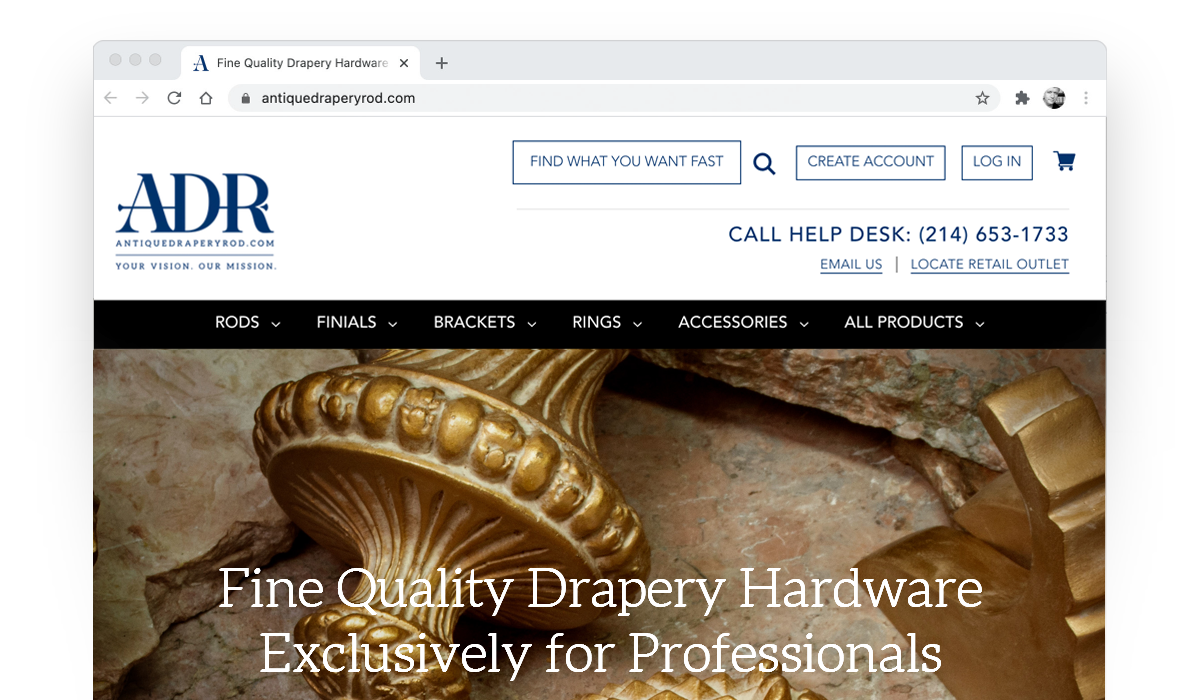 Apple iPad Users: Please be sure your software is up to date

.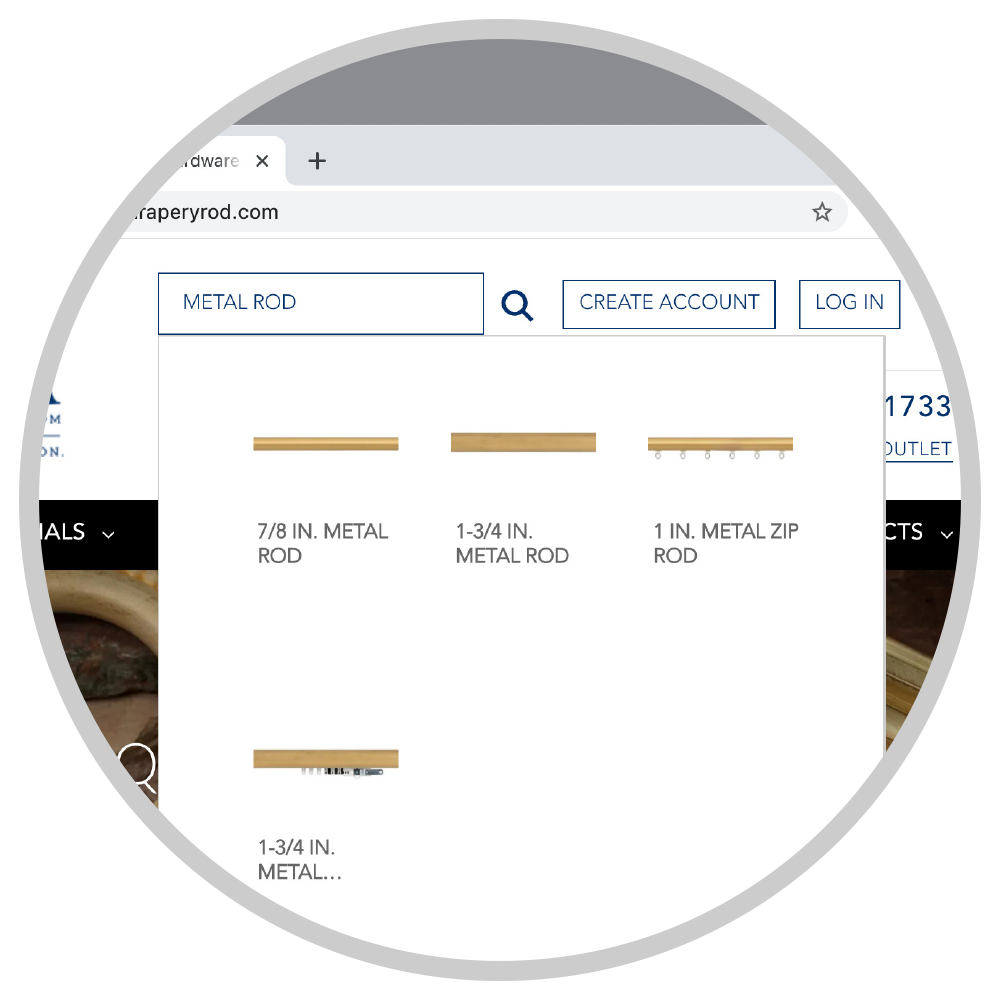 SEARCH IS YOUR VERY BEST FRIEND!
The best place to begin EVERY time you come to the store to shop is the Search Box. It's conveniently positioned at the top of each page next to the magnifying glass. This tool can help you FIND WHAT YOU WANT SUPER FAST. Be as specific as possible with your search terms; e.g. 7/8 Metal Rod vs. Rods. This increases speed and accuracy. Small photos are displayed giving you a quick look at the items. Pick one and you'll be taken direct to the product page.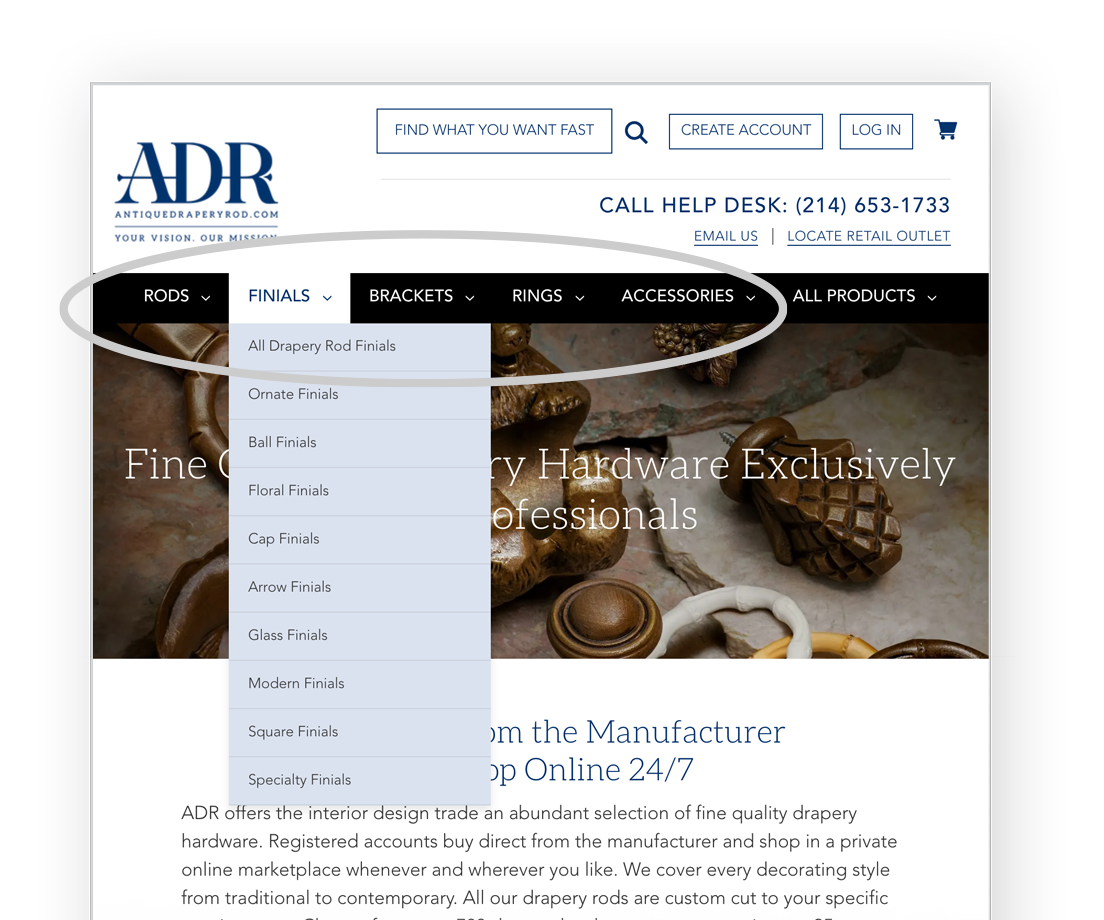 FIVE SIMPLE PRODUCT CATEGORIES
GET YOU THERE QUICKLY
Rods | Finials | Brackets | Rings | Accessories
Five different tabs, one for each of the individual product categories, are now right in front of you at all times. Place your cursor on a tab and you get a drop down menu that can take you directly to the type of product you want.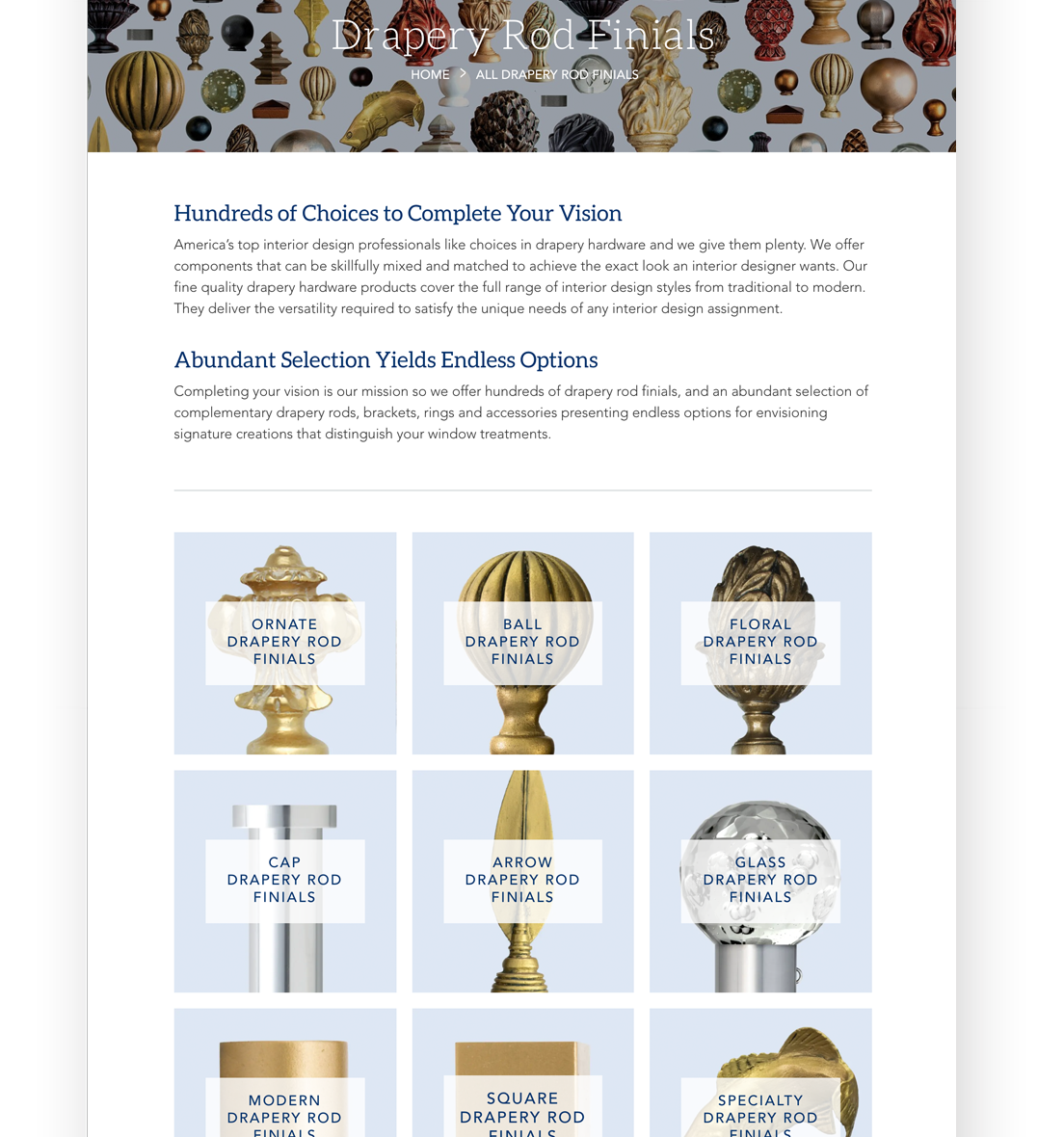 Objects You May Desire
Click on the first row of each drop down menu and you get a special page that's been created for each of the five different product categories. This page gives you additional information about the category and displays a series of boxes containing objects representative of the types of products contained in a particular group. Scroll down the page and you'll learn more about a featured item like our favorite "Turkish Monkey Finial".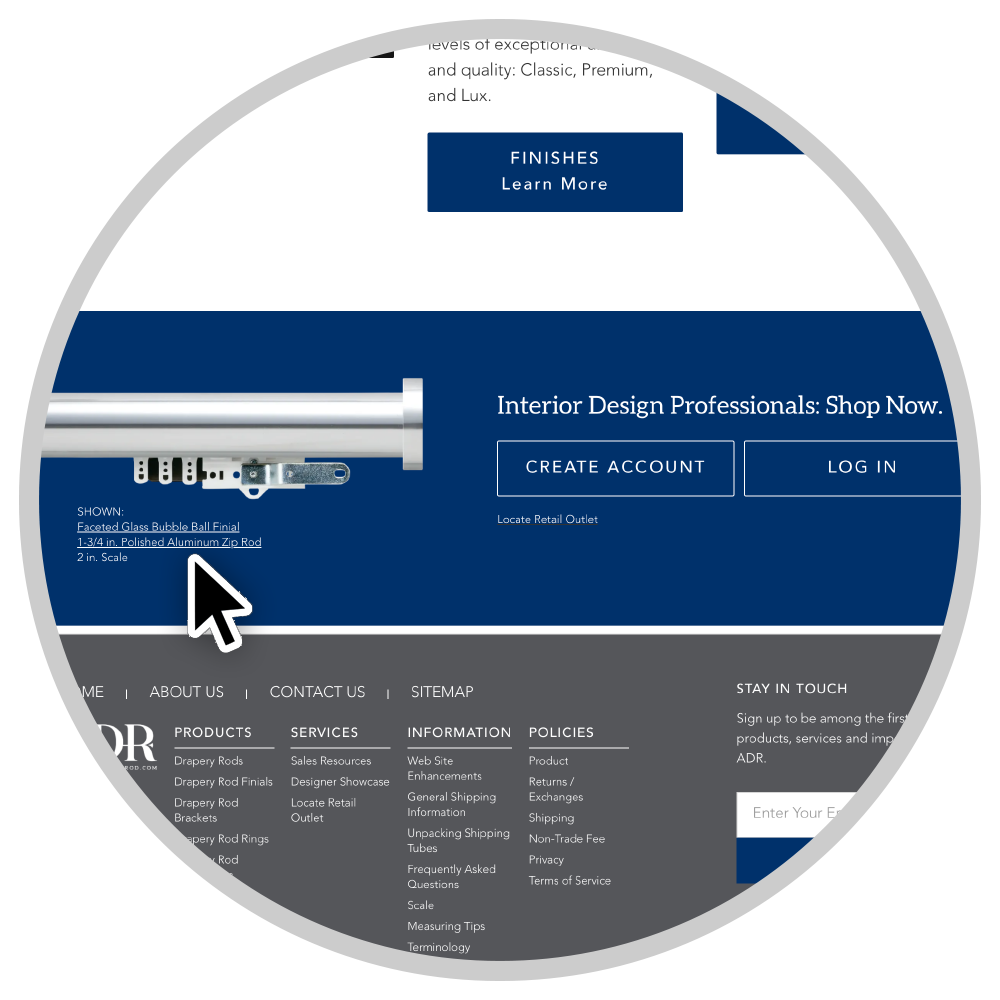 Like What You See?
When you come across a blue panel like this one and see an item you like you can always get to it fast by just clicking on the links under SHOWN: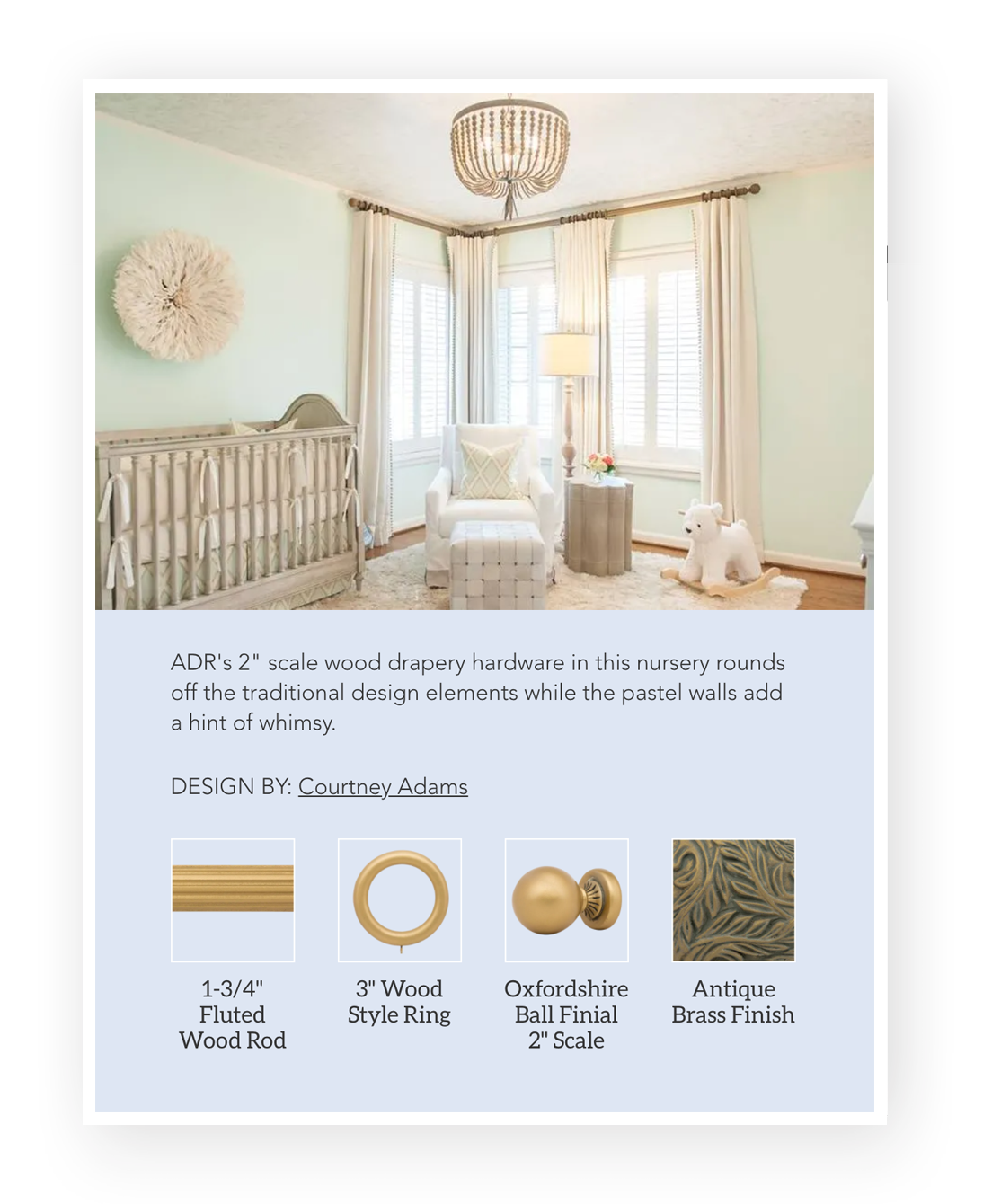 SHOP LOOKS IN THE NEW DESIGNER SHOWCASE
Now you can see rooms designed by ADR customers with notes so you can find the exact ADR drapery hardware they used to create their signature window treatments. Send us high resolution photos of your rooms using ADR drapery hardware and we'll showcase them here too.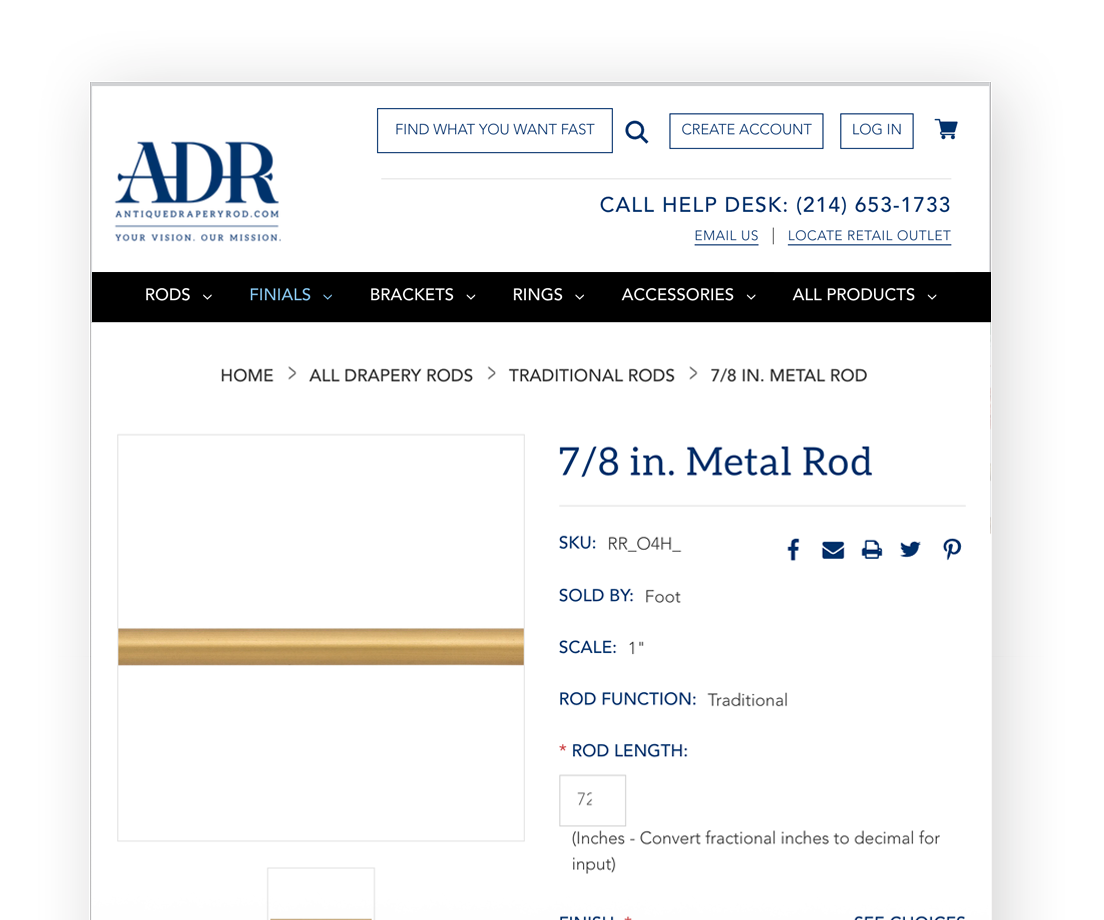 FAMILIAR TERRITORY
Once you begin shopping there's not much new to see. When you're choosing individual products, providing specifications, and checking out, you'll be in very familiar territory.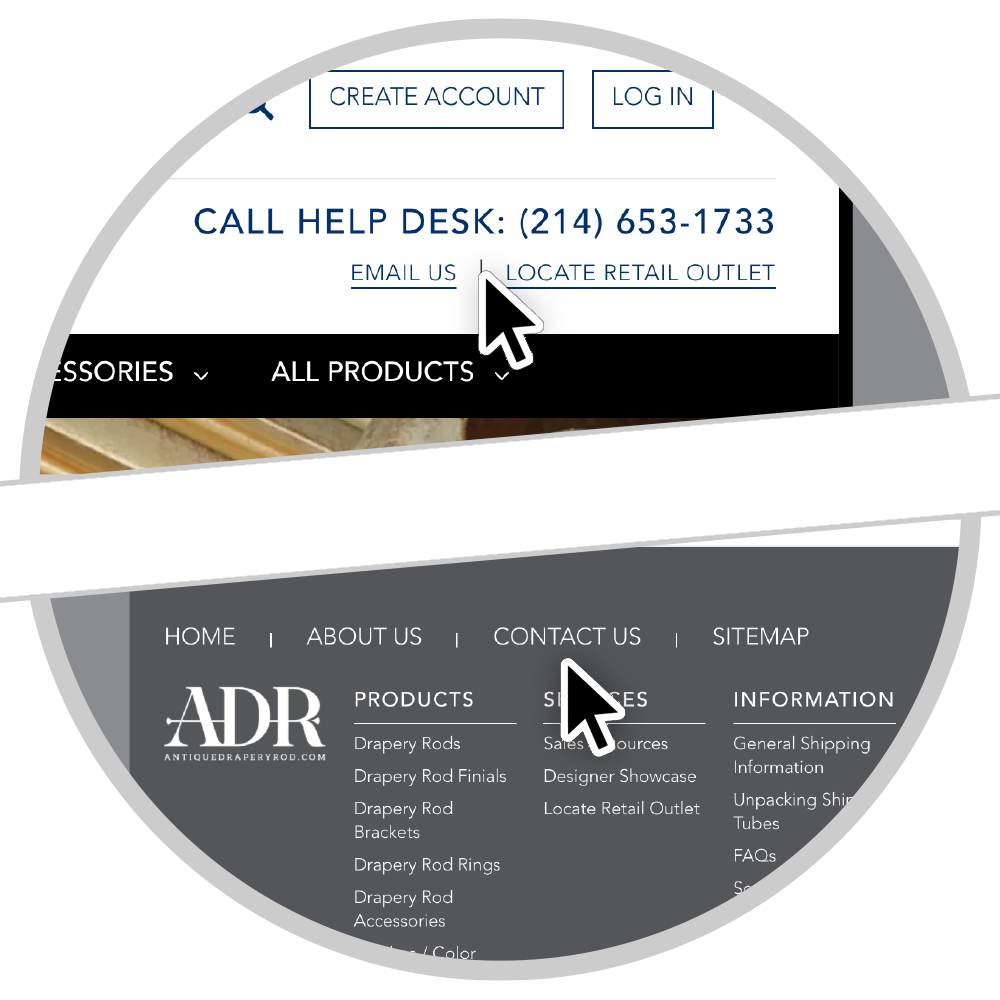 NEED ASSISTANCE?
WE're always here.
Our drapery hardware specialists are eager to lend their experience and expertise. They want to make sure every interaction you have with ADR is a good one. The ways you contact us are always displayed at the top and bottom of every page. We actually like hearing from our customers.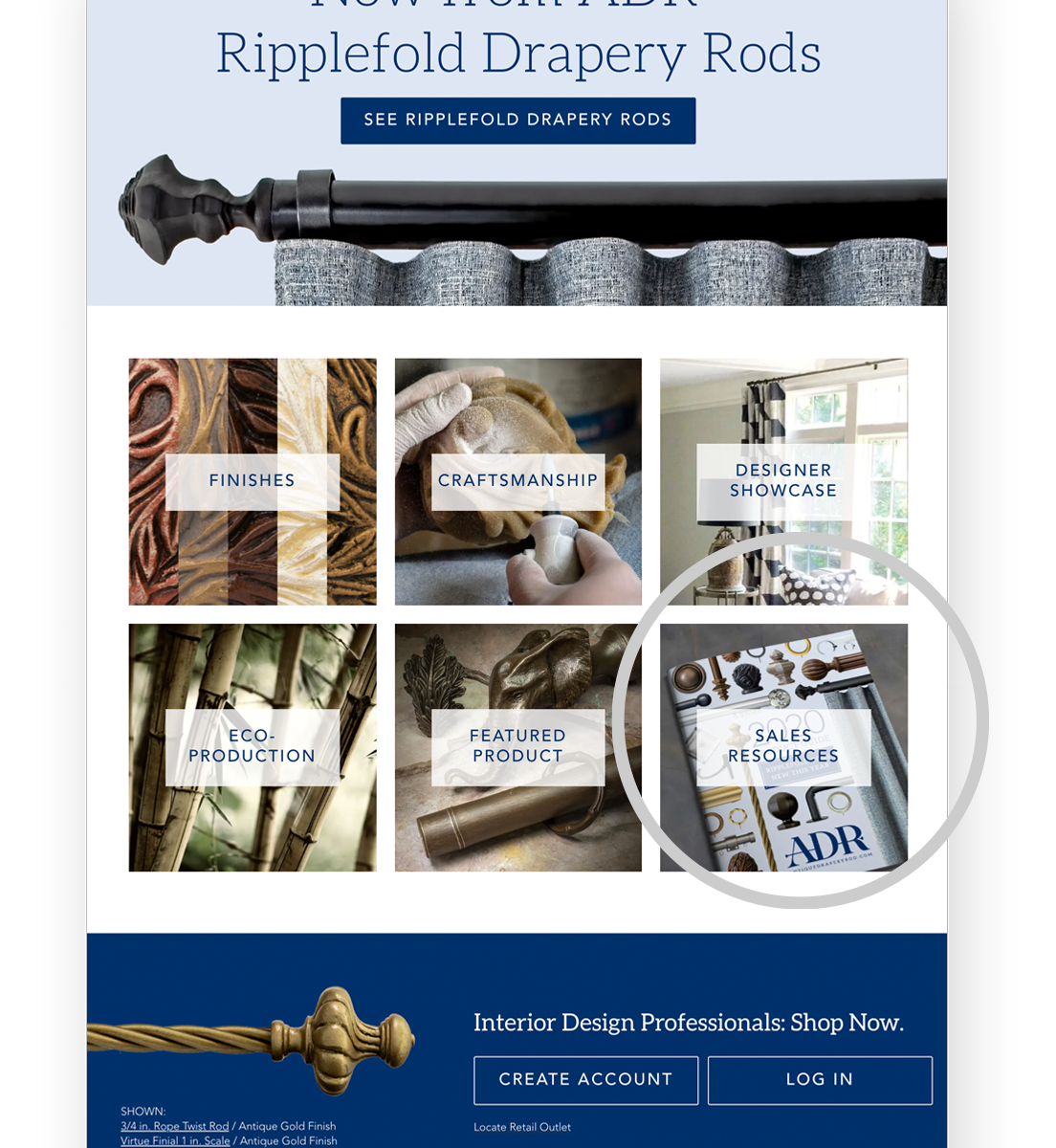 RAPID ACCESS TO FINISHES, CATALOGS, SAMPLES & MORE
There are six boxes on the front page of the store that give you rapid access to important resources and information on everything from the ADR Color Palette to the Sales Resources we provide to help designers realize their visions and run their businesses successfully.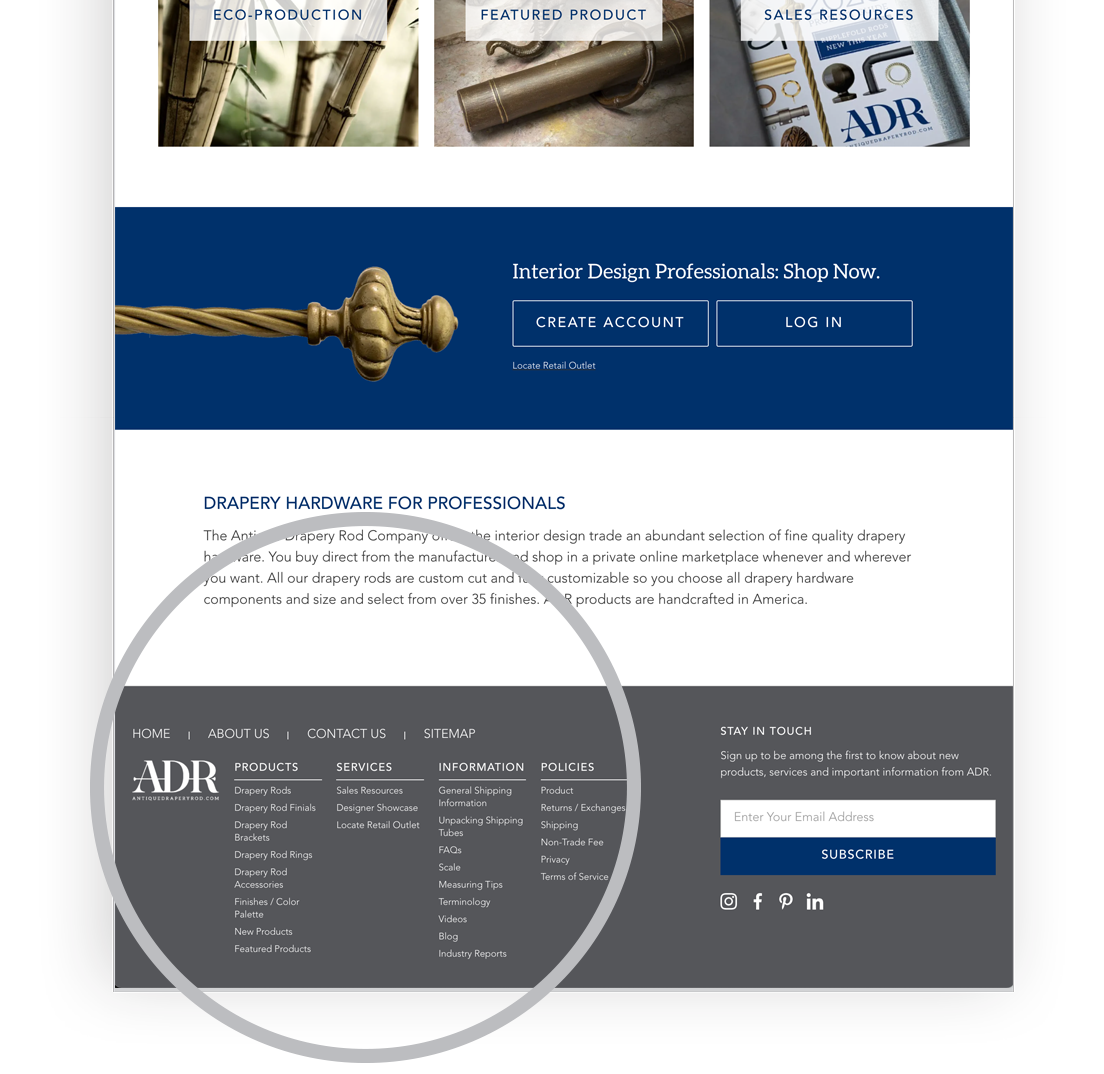 USEFUL INFORMATION ALWAYS AT YOUR FINGERTIPS
The information you're seeking, and the places you want to go, are always at your fingertips at the bottom of every page. Four columns now give you quick access to PRODUCTS, SERVICES, INFORMATION and POLICIES.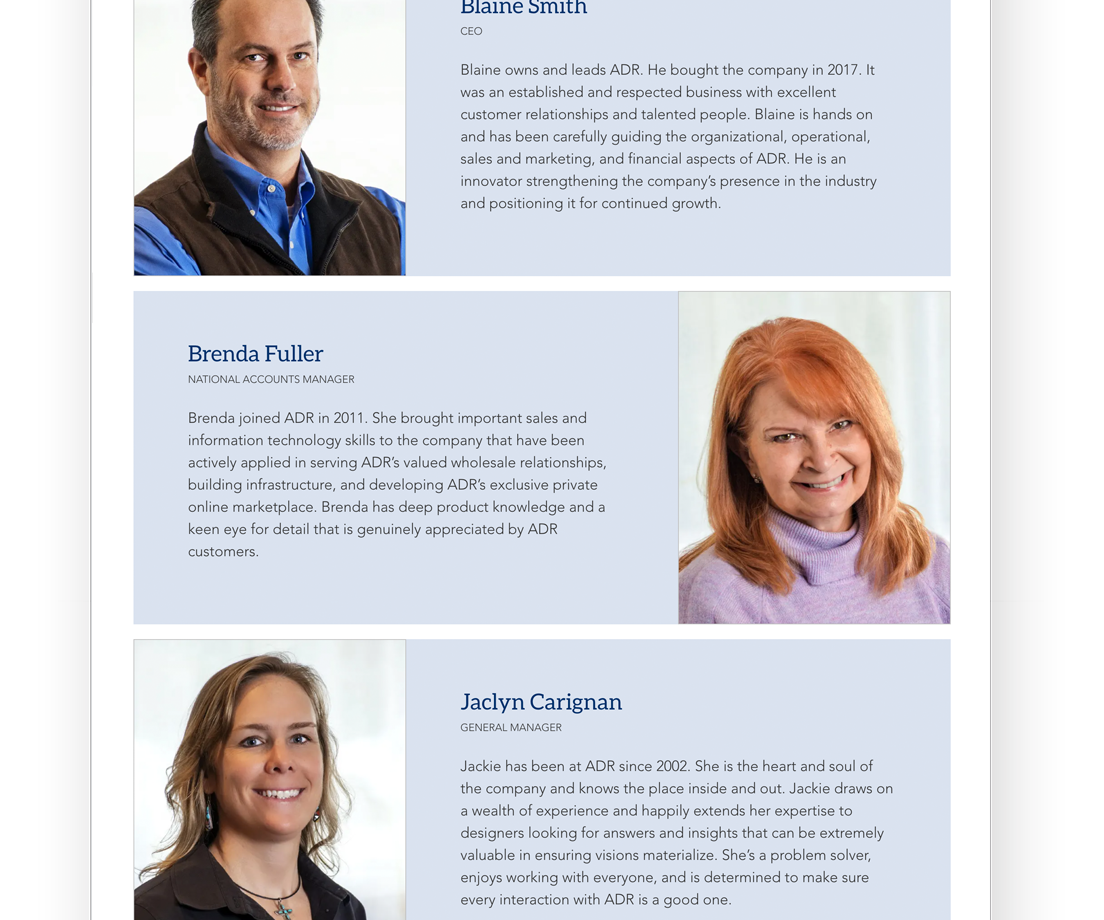 LET'S GET ACQUAINTED
Click on ABOUT US (at the bottom of each page) and you can meet our team and learn more about ADR. We want to earn your trust and be your go to source for fine quality drapery hardware.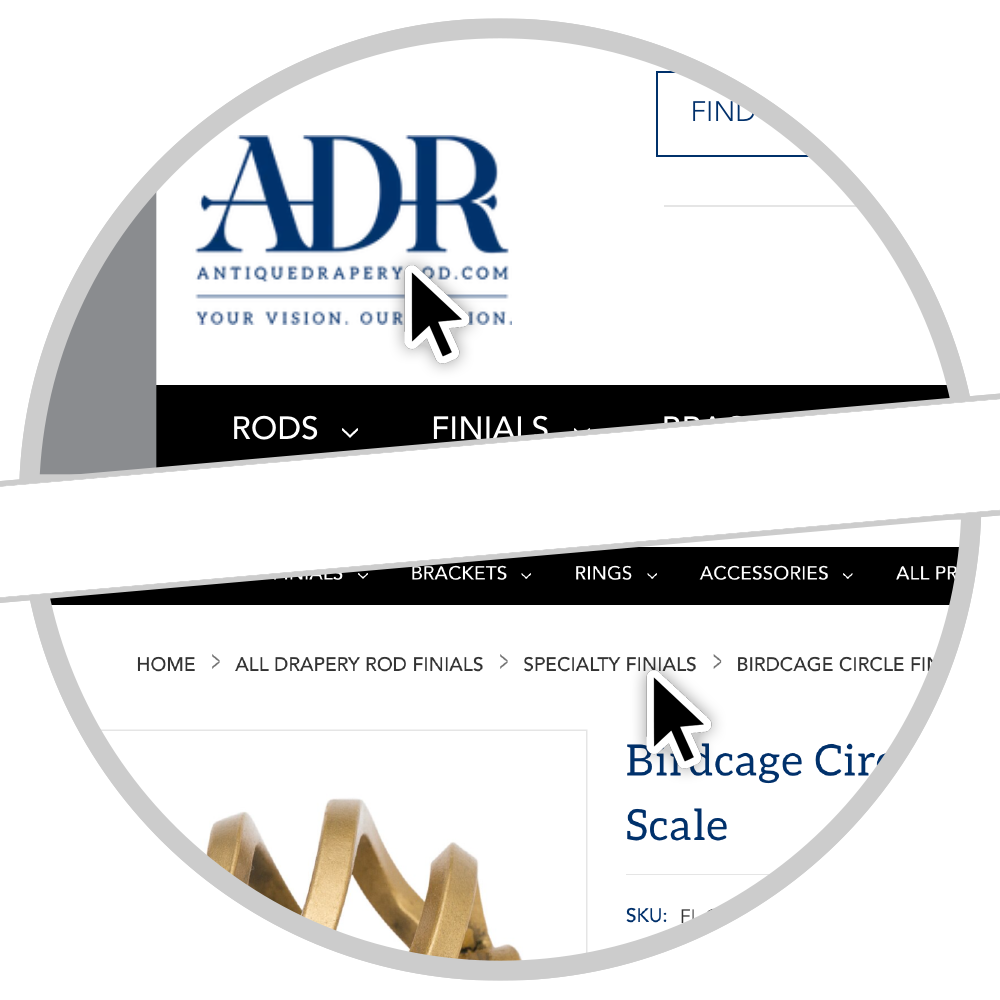 YOU'RE NEVER FAR FROM HOME
If you ever lose your way, you can always click on our logo at the top and bottom of any page. You'll be returned immediately to the front door of our store.
FIND YOUR WAY BACK
It's easy to retrace your steps by following the breadcrumbs that have been created for you along the way. Simply use the cursor trail at the top of the page to lead yourself back to where you started.